Advanced Water
& Waste Water Quality Control
The Advanced Water and Wastewater Quality Laboratory Lab (ADWWQL) at USPCASW is Sind EPA accredited lab and provides commercialized sample testing services on various drinking and waste water samples by following guidelines of WHO, EPA and NEQS recommended standard methods.
(Click here to download the rate list of every water quality testing parameter).
The ADWWQL is providing services for analyses of physical, chemical, and biological parameters (PCB) of surface, river, ground, water treatment plants, industrial effluents, sewerage, sources. Our labs also provide services of sample collector to visitor /outsider if he or she wants to collect samples from everywhere in Sindh or other nearby areas of Sindh by following proper safety protocols.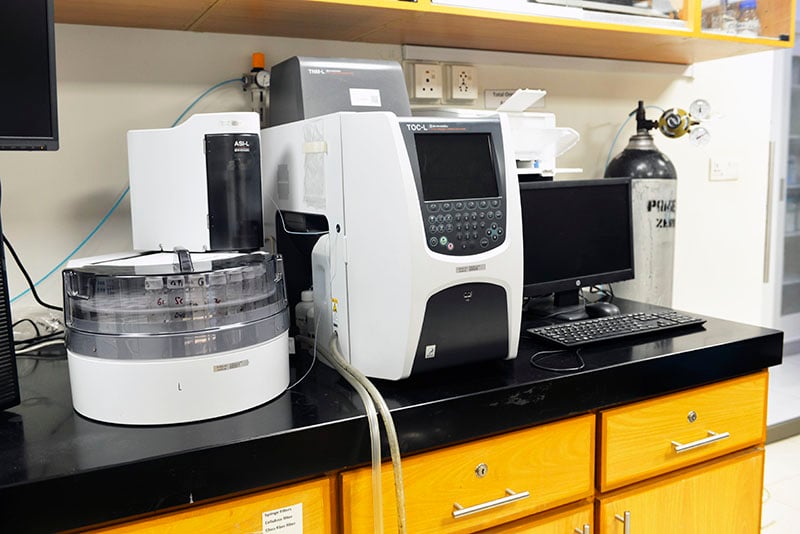 Most of our Graduates scholars (MS and Ph.D.) working on developing new innovative methods of treating contaminated water, and wastewater reuse on a lab/pilot scale such as advanced nanotechnology, molecular biology (membrane filters, nanocatalyst, absorbent (biochar), sensors, and membrane bioreactor, disinfectant and drug-resistant bacteria and antibiotic-resistant genes.
The laboratory also provides training in environment-related analytical Instrumental laboratory techniques, Health and Safety Laboratory Protocols, Design and Development of Water and Wastewater Treatment, Advanced Water and Wastewater Quality Parameters including Physical, Chemical, and Biological.
pH, Temperature, Color, Odour,
Hardness,
Alkalinity,
Chloride,
Sulfate,
Nitrate,
Fluoride,
Total Dissolved Solids (TDS), Electrical Conductivity (EC), Salinity,
Biological oxygen demand (BOD),
Chemical Oxygen Demand (COD),
Total Suspended Solids (TSS), Total Coliform, E-coli),
Field water sampling protocols (collection, preservation, and transportation),
Antibiotic-Resistant Bacteria,
Basics Molecular Microbiology,
Assessment of Experiment Design.
Click here to download Lab Equipment List
Technical Staff
Prof. Dr. Zubair Ahmed  –  Chief Analyst (HOD)
Dr.Syeda Sara Hassan  –  Analyst
Dr.Tanveer Ahmed  –  Analyst
Naila Gul Shaikh  –  Laboratory Technicians