American People's Continued Support for Pakistan Water Resources!
Categories

News

Date

September 6, 2018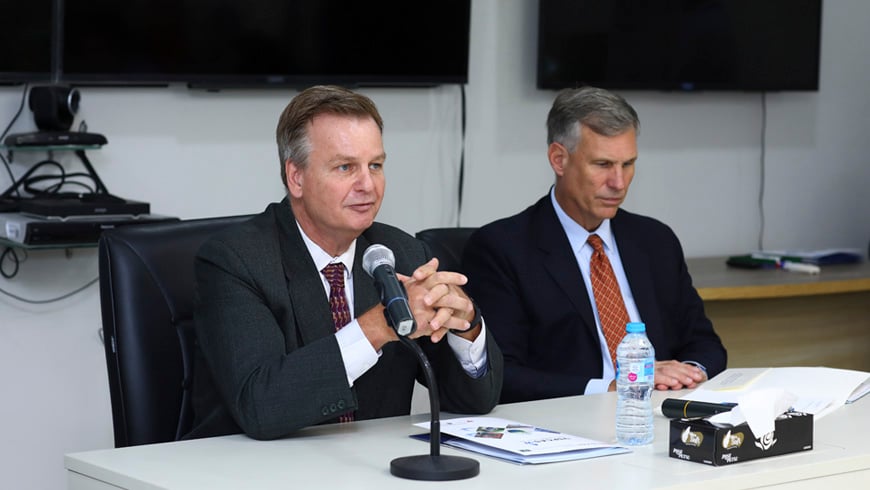 USAID Deputy Mission Director for Sindh & Balochistan John Smith-Sreen and USAID Deputy Office Director Michael Hryshchyshyn called on VC Mehran University of Engineering and Technology (MUET) Dr. Muhammad Aslam Uqaili.
During the meeting, they talked about ongoing Pak-US collaboration on effective and efficient water management, education, and research. MUET students and faculty also participated in the discussions celebrating the partnership.
USAID provided $23.8 million to create the U.S. – Pakistan Center for Advanced Studies in Water (USPCAS-W) jointly implemented by MUET and the University of Utah in the United States. USPCAS-W supports high-quality education and applied research on the water to prepare the next generation of experts and leaders to help Pakistan improve water resource management.
The program offers graduate studies in irrigation, integrated water management, environmental engineering, and water sanitation. Both universities are implementing a series of seminars and workshops to enhance awareness about critical water sustainability issues facing Pakistan. USAID also funded the construction of an academic, laboratory, and research complex at MUET to house the Water Center.
USPCAS-W includes exchange programs hosted by the University of Utah. During the campus visit, USAID officials interacted with MUET students who have completed their exchange program abroad. They learned about their academic experience and impressions about life in the United States.
Approximately, 250 students (33% of them women) have enrolled in USPCAS-W and 33 have graduated to date. Over 100 students have completed exchange programs in the universities of theUnited States.
Smith-Sreen emphasized that the U.S. government was proud to partner with Mehran University and the University of Utah on such an important issue: "Water drives economic growth, is critical for good health, and represents a fundamental building block for Pakistan's development," he noted.
He further informed that the US had invested in multiple water-related activities in Sindh and Balochistan: "Our higher education collaboration between Mehran and Utah Universities is an important component of our overall water investments in Pakistan," he concluded.