8th Batch Orientation Ceremony held at USPCAS-W, MUET Jamshoro
Categories

News

Date

September 28, 2021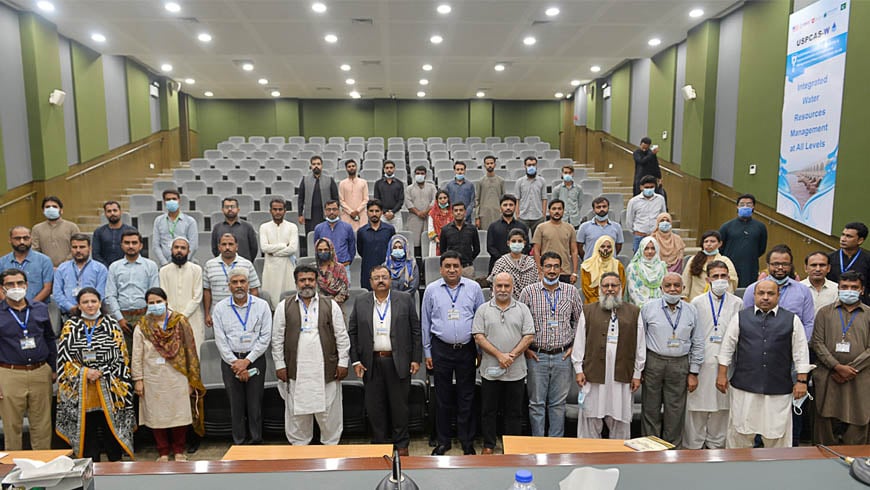 The orientation ceremony for the 8th Batch enrolled in Masters and PhD Program – 2021 offered by U.S.-Pakistan Center for Advanced Studies in Water (USPCAS-W), Mehran University of Engineering and Technology (MUET) Jamshoro, was held on Tuesday, September 28th, 2021
Speaking in the ceremony, Vice-Chancellor Mehran University of Engineering & Technology (MUET) Prof. Dr Mohammad Aslam Uqaili said that after four-year negotiating, the United States Government through the United States Agency for International Development (USAID), and the Government of Pakistan, through the Higher Education Commission (HEC), had established the state-of-the-art center for advanced studies in water by partnering the universities from the United States. He said that MUET Water Center is one of the leading regional centres of excellence in water in South Asia. He elaborated that USPCAS-W is educating and training the next generation of scientists, engineers, and policymakers through innovative academic and research programs crucial for Pakistan's development in the water sector. While congratulating the enrolled students, MUET Vice-Chancellor said that they are the ambassadors of this institution. At the same time, the success of this water research centre primarily depends on the research efforts of the faculty and students, while he urged them to play a vital role in this regard.
The Director USPCAS-W MUET Prof. Dr Rasool Bux Mahar congratulated the new Batch for their acceptance in desired disciplines; Environmental Engineering (ENV.ENG), Hydraulics, Irrigation, and Drainage (HID), Integrated Water Resources Management (IWRM), and Water, Sanitation and Health Sciences (WaSH). In his greeting address, Prof. Dr Rasool Bux Mahar said that you would start a journey for a new milestone; life is an endless journey of struggles; today, we are here, and some of you will replace us in the future. He said this centre is unique in Pakistan and is well known worldwide; we have state of the art laboratories, well-trained faculty and fully facilitated classrooms. The research is being conducted in the Center is focusing on the 6th sustainable goal and its all targets. "Our aim is to create global leaders, and researchers in the field of water said Director USPCAS-W".
Among other speakers, Prof. Dr Kamran Ansari (Co-Director, USCAS-W) delivered a detailed presentation to provide academic guidelines. He described the core values and information, such as; Scholarships, Academic calendars, Credit Hours, Attendance & Examination Policy, Grading System, and introduced faculty members to newly inducted students. He also introduced the faculty member to the new Batch. He urged the students to utilize the tenure of their degree programs to acquire academic knowledge and spend more time in research and development as this centre is established to resolve water issues in Pakistan. He stated that USPCAS-W has state-of-the-art infrastructure, facilities, labs and is the only institute with the most advanced technology to research water and related studies.
Prof. Dr Khan Muhammad Brohi, Dean Faculty of Architecture & Civil Engineering, Mehran UET, Faculty and Staff were also present. The orientation ceremony was concluded with a Q&A session.