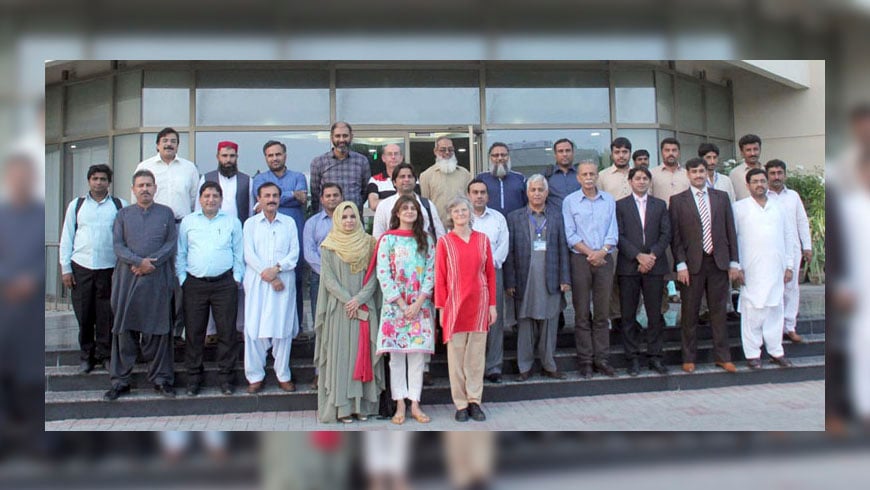 Workshop on Ground Water Data Analysis and Modelling held at MUET
Water experts say the rapid depletion of groundwater and salinity is severely affecting farming livelihoods for rural areas of Pakistan. They say to improve groundwater management we need data to better analyze and model water. This is the purpose behind their three-day workshop on Capacity Enhancement in Ground Water Data Analysis and Modelling held on Friday in the Conference Room of U.S.-Pakistan Center for Advanced Studies in Water (USPCAS-W) at Mehran University of Engineering and Technology (MUET) Jamshoro. The workshop is part of a four year project on Improving Ground Water Management to Enhance Agriculture and Farming Livelihood in Pakistan signed by the Australian Government through the Australian Centre for International Agricultural Research (ACIAR) and Charles Sturt University (CSU), Australia, with twelve implementing partners from Pakistan including MUET, Pakistan Council of Research in Water Resources (PCRWR), Sindh Agriculture University (SAU) Tandojam, University of Agriculture Faisalabad (UAF), NED University Karachi, Arid Agriculture University Rawalpindi, Balochistan University of Information Technology, Engineering and Management Sciences (BUITEMS) Quetta, the provincial irrigation departments of Punjab, Sindh and Balochistan, WAPDA and others.
Associate Professor in CSU's School of Environmental Science, Dr. Catherine Allan, speaking in the workshop said that through the project, we are connecting with the concerned stakeholders to identify and develop solutions together for the improvement of groundwater management suitable for local conditions. She said that the project was being implemented using case studies in selected regions of three provinces of the country: Punjab, Sindh, and Balochistan. This being done in collaboration with selected universities and key government agencies of Pakistan.
Research Fellow at CSU's Institute of Land, Water and Society (ILWS), Dr. Michael Mitchell said the project aims to develop shared understanding building on groundwater data analysis and modelling to help people make informed and good decisions for the use of water for agriculture purposes. One of the workshop participants made a good point that groundwater is difficult for anybody to understand because it is a mystery under the ground. He observed that to understand this mystery,we need to model groundwater, which can lead to a better decision-making process using evidence-based information.
Director of Australian based groundwater and environment firm Eco seal Developments Dr. Jehangir F. Punthakey, who leads the project, said that the project focuses on different canals and basins of Pakistan where the groundwater data analysis and modelling will be done in Pishin Lora Basin (PLB) of Balochistan, Rohri Canal at Shaheed Benazirabad / Nawabshah and Naushehro Feroze Districts of Sindh and in the Lower Bari Doab Canal (LBDC) of Punjab. Dr. Punthakey said salinity, as well as the rapid depletion of groundwater, affected farming and livelihoods of Pakistan people. He said in Sindh 20 percent groundwater was used in the mentioned districts and in Punjab the cropping intensity had increased from 67 percent when the irrigation system was designed to almost 200 percent, primarily through increased use of groundwater. He further said that through this Australian government-funded project, the groundwater management will be significantly improved through capacity building of stakeholders and the farming community.
Director General PCRWR Dr. Ashfaq Ahmed Sheikh said that the Governments of Pakistan initiated this four-year project with support from the Australian government last year and is being implemented in different areas of three provinces of the country. He said that presently the use of groundwater has increased which affects quantity as well as quality of the water. He said that the same problem existed in Australia, and these issues have been tackled issues with solutions coming up through water modeling. In this connection, he said that the Australian water experts are helping us to use their expertise and replicate the same models in Pakistan. He further said the project will help the farming community to get the maximum yield by better and proper use of groundwater.
Dr. Abdul Latif Qureshi, Professor at USPCAS-W MUET Hydraulics Irrigation and Drainage (HID) Section said that in Sindh there is shallow water and extraction of groundwater will cause the deterioration of water quality and quantity. He said through this project the groundwater data analysis and modeling was being done in Shaheed Benazirabad and Naushehro Feroze district of Sindh province, where the Rohri Canal passed through the districts. He said that water seepage from Rohri Canal cause salinity, waterlogging in the surrounding areas whereas the depletion of water occurs in the far-flung areas of both districts due to the excessive groundwater extraction.
Dr. Bakshal Lashari, the Project Director of USPCAS-W MUET in the inaugural session said that this water research center is national level established with the generous support from the American people through United States Agency for International Development (USAID). He said USPCAS-W faculty, as well as the students, were involved in this project as to build their capacity. Thanking the participants, Dr. Lashari said the doors of the Center is always open for the water related researchers to get the benefit from the research laboratories.
On the first day of the workshop, from Punjab Dr. Lubna Anjum, Assistant Professor UAF gave a presentation on Data Analysis for Lower Bari Doab Canal (LBDC); from Sindh Mr. Waqas Ahmed of USPCAS-W MUET and Prof. Muhammad Shafqat Ejaz of NED University gave a presentation on Progress Compilation and Analysis Data required for Groundwater Modeling; and from Balochistan Dr. Malik Muhammad Akhtar of BUITMS gave a presentation on the Pishin Lora Basin (PLB). On this occasion, Mr. Ghulam Hussain Dars, Assistant Professor at USPCAS-W gave a special presentation on groundwater down scaling and modeling and Mr. Aqeel Ahmed, a student of HID at USPCAS-W, gave a presentation on Performance Evaluation of Solar Tube-wells for Water logging and Irrigation Intensity in District Shaheed Benazirabad.
On Friday, the second day of the workshop Dr. Jehangir Punthakey gave a presentation on model development using the software groundwater vistas, Dr. Mobushir Riaz Khan gave a presentation on RS image analysis for land use mapping at crop specific level, and Dr. Usman Khalid Awan presented on water balance approach to estimating recharge.
Meanwhile, Dr. Catherine Allan conducted aTrain the Trainer gender workshop in which academia, female students, civil society representatives and a government official from Balochistan participated.
Communication Manager PCRWR Ms. Kanza Javed and Communication, Media and Outreach Expert USPCAS-W MUET Mr. Sahib Khan Bhand assisted the facilitation of the workshop.
The experts vowed to contribute and coordinate their efforts for improving groundwater management through data analysis and modelling throughout the country. The academia, researchers, students, civil society representatives and officials of irrigation department from Sindh, Punjab and Balochistan participated in the workshop.