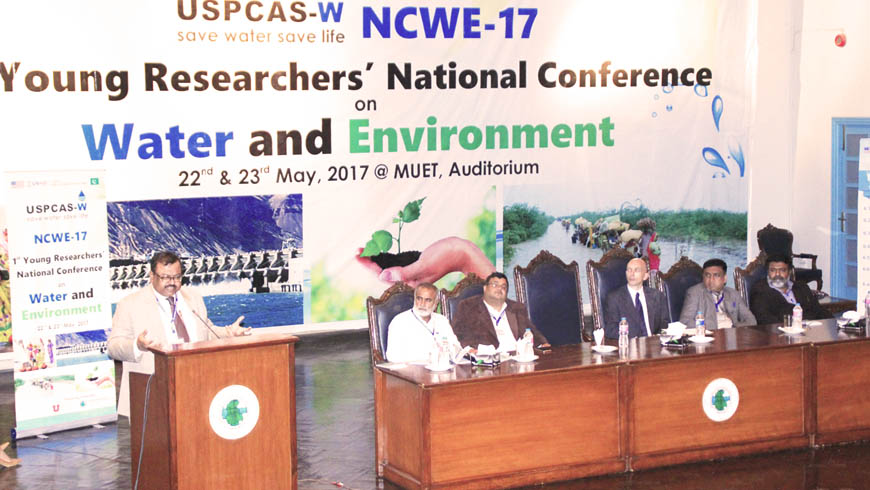 Two-Day First Young Researchers National Conference on Water and Environment at MUET Inaugurated
Two-Day First Young Researchers' National Conference on Water and Environment organized by under the auspices of U.S-Pakistan Center for Advanced Studies in Water (USPCAS-W), inaugurated on Monday at Mehran University of Engineering & Technology (MUET), Jamshoro. Speaking in the inaugural ceremony of the conference held at the MUET Auditorium today (Monday), Vice Chancellor MUET Dr. Mohammad Aslam Uqaili said that the sole purpose of educational and research institutes to benefit the common people by uplifting their living standards through applied and action research.
He said that USPCAS-W is one of the sate-of-the art centers established at MUET with the generous support of U.S. Agency for International Development (USAID). He said that through this Center, around 250 scholars will be trained who will contribute in the knowledge economy of Pakistan by solving the water challenges. He said that USPCAS-W is a world class education and applied research Center dedicating to resolving Pakistan's water challenges thought applied research, developing human capital and technologies. Dr. Uqaili appreciating the idea of this young conference said that such conferences will pave the way for the healthy competition among the young researchers and also will provide networking opportunities among them to work collectively to tackle the water and energy challenges faced by Pakistan. He said that through the modern and enlightened education and training, the prevailing extremism in the country can be tackled accordingly and the atmosphere of tolerance and harmony can be established in the society. He further said that before looking to the government for every problem, everyone has to play one's due role for the collective good to bring peace and prosperity in the society.
Dr. Rasool Bux Mahar, the conference convener, said that this conference aimed at to provide an ideal academic platform to young researchers and scholars from all over the country to share their latest findings about the water and environment related issues. He said that this conference is a research paper and poster presentation competition on water and environment related themes among the young scholars who are pursuing higher studies inthe different universities of the country.
Dr. Mahar further said that in total 105 abstracts, 72 detailed research papers were submitted against the call of the conference and finally 52 research papers and 11 posters were selected to be presented in the conference. Dr. Jeffrey L. Ullman, Technical Adviser to USPCAS-W from University of Utah, said that the United States through USAID and Government of Pakistan through the Higher Education Commission (HEC) have partnered together to create state of the art centers for advanced studies in Water, Energy, Agriculture and Food Security, whereas University of Utah is providing the technical support to the water center housed at MUET. He further said that exchange scholars of USPCAS-W have been facilitated by the University of Utah during their one-semester stay at USA.
Mr. Arif Hasan, the country's famous Urban Planner and Architect delivered his talk in the plenary session on Urbanization Trends and their Environmental Repercussions:  The Case of Karachi. Mr. Hasan said that unprecedented population growth, poor urban planning, lack of professionalism and irregular pattern of urbanization cause many problems in Karachi and other cities of Pakistan which includes poor supply of water, sanitation and waste management issues. Mr. Nadeem Ahmad, Manager Policy and Advocacy in Water Aid Pakistan gave a presentation on Sustainable Development Goals (SDGs) and Water: Thematic Integration, Implementation and Monitoring SDG-6. Mr. Ahmad said that the world is waking up to the enormity of our water-related challenges.
Growing populations, more water-intensive patterns of growth, increasing rainfall variability, and pollution are combining in many places to make the availability of fit-for-purpose water one of the greatest risks to poverty eradication, peace and all three dimensions of sustainable development, he said. Floods and droughts already impose huge social and economic costs around the world, and our climate is driving increases in the frequency and severity of water-related extreme events.
If the world continues on its current path, projections suggest that the world may face a 40% shortfall in water availability by 2030, and economic growth in some regions may be cut by 6% due to water scarcity alone, he added. Mr. Ahmad focusing on SDG-6 which is about to ensure availability and sustainable management of water and sanitation for all, said thatSDG6 outlines some of the key actions that the world needs to take on water, including providing universal access to services, improving water quality, increasing water-use efficiency, protecting and restoring water-related ecosystems, and more broadly, implementing integrated water resource management at all levels, including through transboundary cooperation.
Prof. Dr. Khan Mohammad Brohi, Dean Faculty of Architecture and Civil Engineering MUET, Prof. Dr. M. Munir Babar and other spoke on this occasion. The technical sessions of the conference were held at in the Office of Research, Innovation & Commercialization (ORIC) MUET, where young scholars presented their research papers on different topics includes "Detection of Antibiotic-Resistant Bacteria from different Drinking Water Sources of Hyderabad City and its Surroundings", "Developing of Prototype Water Filter using Nanofiber Membranes, "Ground Water Quality in Islamkot and Mithi of District Tharparkar, " Nexus Approach to Address Water-Energy-Food Security of Pakistan". Dr. Jeffrey L. Ullman, Dr. Kamran Ansari, Dr. Zubair Ahmad, Ms. Uzma Imran, Dr. Syed Tufail Sherazi, Dr. Sara Hassan, Dr. Khadija Qureshi, Dr. Sheeraz Memon, Dr. Abdul Latif Qureshi, Mr. Waqas Ahmed, Dr. Altaf Ali Siyal, Ms. Rakhsinda Bano, Dr. Asmatullah, Ms. Hadiqa Maqsood chaired and co-chaired the technical session in which students presented their presentations. Dr. Mercedes Ward, Monitioring and Evaluation Specialist at University of Utah, Mr. Hafeezullah Samo, Senior Education Specialist at USAID, Dr. Mohammad Yar Khuwar, Dr. Farman Ali Shah, Dr. Zahid Ali Memon, Dr. Wazir Ali Baloch, Dr. Jameel Ahmed Soomro, Dr. Muneer Qazi and other faculty members and research scholars from different universities participated in the conference.
The technical sessions were chaired and co-chaired by the faculty of MUET and other universities. Prof. Dr. Tauha Hussain Ali, Pro-Vice Chancellor MUET will be the chief guest in the closing ceremony of the conference to be held on Tuesday, 23 May, 2017 at ORIC building MUET, where the positon holders will be given prizes and trophies. The chief guest and the guest of honors were presented traditional gifts by the management of USPCAS-W MUET.