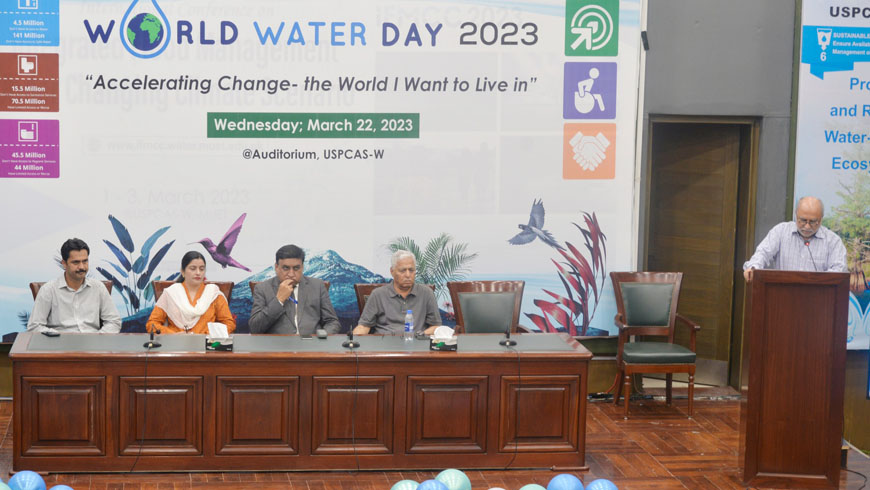 The celebration of World Water Day under the theme "Accelerating Change: The World I Want to Live in" organised by the USPCAS-W, MUET Jamshoro, in collaboration with WaterAid
Categories

News

Date

March 22, 2023
The celebration of World Water Day under the theme "Accelerating Change: The World I Want to Live in.", organised by the U.S.-Pakistan Center for Advanced Studies in Water (USPCAS-W), Mehran University of Engineering and Technology (MUET) Jamshoro, in collaboration with WaterAid.
The Director National Water Center, Prof. Dr Kamran Jan Ansari, welcomed all the distinguished guests. Dr Ansari highlighted the importance of freshwater and advocated for the sustainable management of freshwater resources. This year's theme, "Accelerating Change: The World I Want to Live In," emphasises the need to take immediate action to achieve a sustainable future for all. He said our National Water Center aimed to address the critical water issues in Pakistan through research, education, and innovation in the water sector. Water is essential for life, and access to safe and clean water is a fundamental human right. However, billions worldwide still lack access to clean water, and the water demand is rapidly increasing due to population growth, urbanisation, and industrialisation. Dr Ansari said this has led to water scarcity, pollution, and degradation of freshwater ecosystems.
Among the learned Guest speakers, Ms Raheema Panhwar, Gender Advisor, WaterAid; Prof. Dr Bakhshal Khan Lashari, Emeritus Professor, MUET; Prof. Dr Khan Muhammad Brohi, Dean FACE, MUET, and Dr Ammanullah Mahar, Director Environmental Science, UoS, delivered their speeches on the occasion of World Water Day and highlighted that the Reduce water waste: and to take steps to reduce our water consumption by fixing leaks, using water-efficient appliances, and adopting water-saving habits like turning off the tap while brushing our teeth, showering.
We need to sensitise the community and give awareness about saving water. As learned speakers said, we are disturbing marine life and not moving towards rain harvesting. They also added to Protecting freshwater ecosystems essential for biodiversity, water quality, and human well-being. We can protect these ecosystems by reducing pollution, conserving water, and restoring degraded habitats. We need to improve water governance, Invest in water infrastructure, Address climate change, reduce greenhouse gas emissions and adapt to the impacts of climate change, promote participation, transparency, and accountability in decision-making processes and form policies.
4.5 Million don't have access to water, and 141 million don't have access to safe water. 15.5 million need access to sanitation services, and 70.5 million have limited access or worse. 45.5 million don't have access to hygiene services, and 44 million have limited access or worse, highlighted by the speakers.
A poster competition was also organised, and student presented their poster presentation at World Water Day 2023. Faculty, Staff and Students graced their presence at the World Water day celebration. A water awareness walk followed the event.