Project Completion Seminar on Production of Drinking Water from Indus River through Canal Bank Filtration
U.S.-Pakistan Center for Advanced Studies in Water at Mehran University of Engineering & Technology Jamshoro held the Project Completion Seminar on "Production of Drinking Water from Indus River through Canal Bank Filtration for Mehran University Jamshoro" to estimate yield, pumping requirements, bio-clogging, and characterization of water quality on Friday, 20th September 2019, jointly presented by Dr. Zubair Ahmed P.I & Prof. at USPCASW, Dr. Abdul Latif Qureshi Co-P.I at USPCASW and Waqas Ahmed Pathan.
Seminar was chaired by Prof. Dr. Muhammad Aslam Uqaili Vice Chancellor Mehran University of Engineering & Technology whereas other dignitaries include; Prof. Dr. Bakhshal Khan Lashari Project Director at USPCASW, Prof. Dr. Khaleel Ibupoto Dean Faculty of Agricultural Engg. SAU Tando Jam,  Naz Soho DG HDA, Prof. Dr. Rasool Bux Mahar Deputy Director at USPCASW, Dr. Sheeraz Ahmed Memon Director IEEM – MUET, Prof. Dr. Muhammad Khan Muhammad Brohi MUET, Prof. Dr. Abdul Latif Qureshi USPCAS-W. Seminar was attended by representatives from SIDA, HDA and other government & non-government organizations, industry partners, faculty members, scholars and students of MUET and USPCAS-W.
In his key note speech, Dr. Uqaili V.C Mehran UET Jamshoro congratulated Dr. Zubair Ahmed and his team for conducting research on water filtration. And, also appreciated his contribution and efforts in bringing research from his experience at foreign universities that have helped this center to inculcate more research. Further he pleasantly expressed that we are reaching up to fourth domain of knowledge. He elaborated that first domain is knowledge transfer where we produce graduates then knowledge creation where we do conduct research, knowledge application where research is applied and the fourth Knowledge integration where knowledge is benefiting society.
Before that Dr. Lashari welcomed the worthy Vice Chancellor Dr. Uqaili, distinguished guests from industries and other seminar participants. In addition, he briefed about the vision of USPCAS-W towards applied and need based research with Industry-Academia collaboration. "Water issues related with Sustainable Development Goals – SDG6 and water quality is one of its target. It is unfortunate that country is facing huge problem of water quality and this scenario is challenging to each one us; this center, scholars, academia, industry partners and even govt. that how we can resolve day-by-day emerging issues", he added. Further he said that since this particular solution is cost effective and deals with the filtration solution through canal bank that is luckily Pakistan already has one of the best network throughout the country. He urged that we need to use scientific approach to resolve the issues and that can only be implemented with the support of Government, NGOs and industry partners.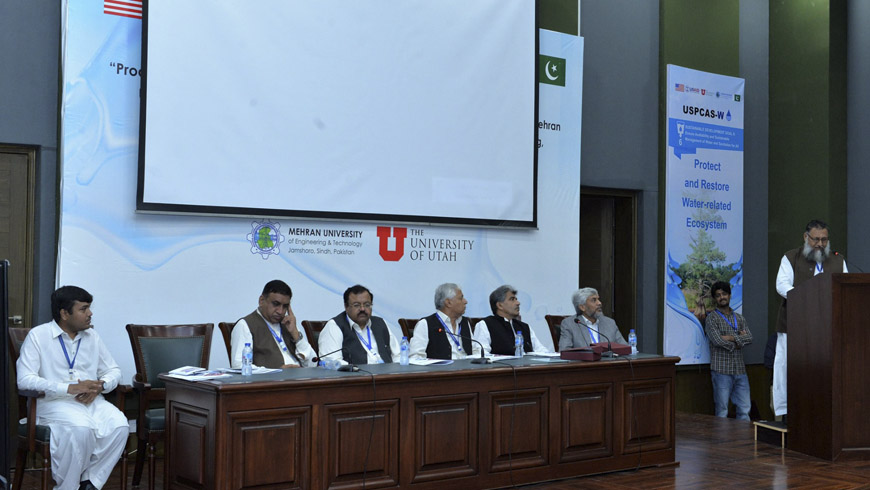 While briefing the project introduction, methodology and results, Project PI Dr. Zubair Ahmed shared about the water challenges in particular water consumption and treatment. Moreover, he said that with the help of successful research study on Drinking Water from Indus River through Canal Bank Filtration, the cost effective solution is proposed to Govt. NGOs, industry partners, donors and other stakeholders. While describing the social impact of the research study he said that improved drinking water quality assures the improved health and fitness. This research basically endorse the conventional water extraction system in rural areas where shallow hand pumps are installed on the bank of canal to get the clean canal seepage water. The research confirms the effective removal of pathogens, physical and chemical contamination in water through natural soil filter and can be used for longer times.
The project study was conducted by Dr. Zubair Ahmed PI, Prof. Dr. Abdul Latif Qureshi Co-PI, Dr. Michael Barber International Expert from University of Utah USA, and team members from USPCAS-W, Waqas Ahmed Pathan, Zia Uddin Abro, Muhammad Asif Jokhio, Mehran Khan, Bakhtawar Jokhio, Asma Laghari and Shakeel Ahmed Lashari.
At the end of seminar Prof. Dr. Aslam Uqaili worthy vice-chancellor Mehran UET Jamshoro presented shields and certificates to PI, Co-PI and research team.