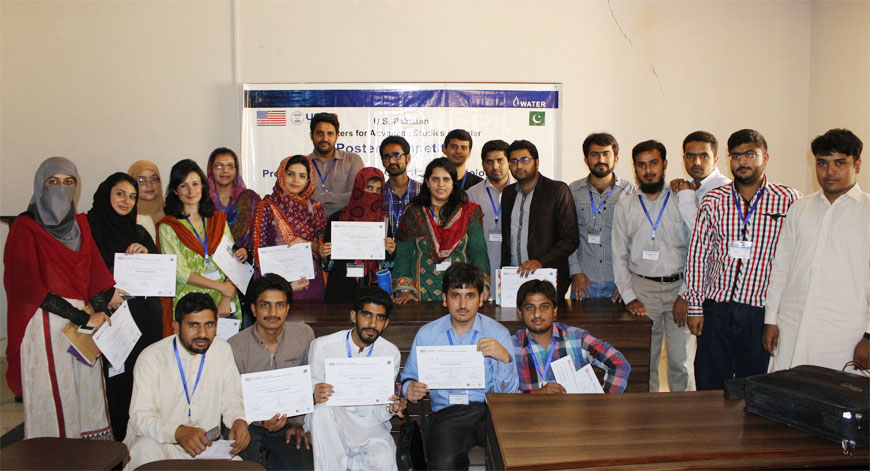 Poster Competition held among the students of MS Environmental Engineering
Categories

News

Date

October 9, 2015
Poster competition held among the students of MS Environmental Engineering of U.S.-Pakistan Center for Advanced Studies in Water (USPCAS-W) at Mehran University of Engineering & Technology (MUET) Jamshoro in collaboration with the University of Utah.
There are around 20 students presented their posters in the competition along with latest facts of figures on various topics of physical, chemical and biological processing units including drinking and waste water treatment plants, heavy metals and screening process in waste water, advanced nano-technolgoy, sedimentation process, effects of climate on environment, water reservoirs in Sindh, ozone layer depletion and others.
Project Director USPCAS-W Prof. Dr. Bakhshal Khan Lashari, Prof. Dr. Mohammad Aslam Chaudhary Deputy Director and Chief of Party USPCAS-W The University of Utah, Gender Specialist Shabnam Baloch and faculty members and guests visited this poster competition event and the students briefed the guests regarding their respective posters.
In the last of the event, prize distribution ceremony held and on this occasion the guest speakers said that this is one of the healthy academic activities and such type of activities will be promoted in this center. They also emphasize on the students to form a water advocacy group as to organize such type of activities in future.
After decision of the designated judges Shoaib Ahmed, Irum Sifat, Azizullah and Sadaf Sher won 1st, 2nd, 3rd and 4th prizes respectively in this competition. The students who participated have been given certificate of participation whereas the position holders given the cash amount.