Four days of an online training module on Water Resources Management using Geo-Spatial Techniques
Four-day Training on "Water Resources Management using Geo-Spatial Techniques – with emphasis on Hydrologic model & satellite RADAR altimetry for inland water monitoring" concluded at USPCAS-W, Mehran UET. The training workshop was divided into online and physical modules and organized by U.S.Pakistan Center for Advanced Studies in Water under the National Research Program for Universities, HEC Pakistan.
In the first two-day online training module, 290 candidates attended the online session. Dr. Marco Restano, Dr. Jerome Benveniste – European Space Agency ESA, and the Technical team from GeoHECRAS, were the key Instructors in the two-day online module. And 17 participants from PCRWR, Irrigation Department, WAPDA, University of Punjab, KCAET and Sindh Agriculture University attended the two-day physical module.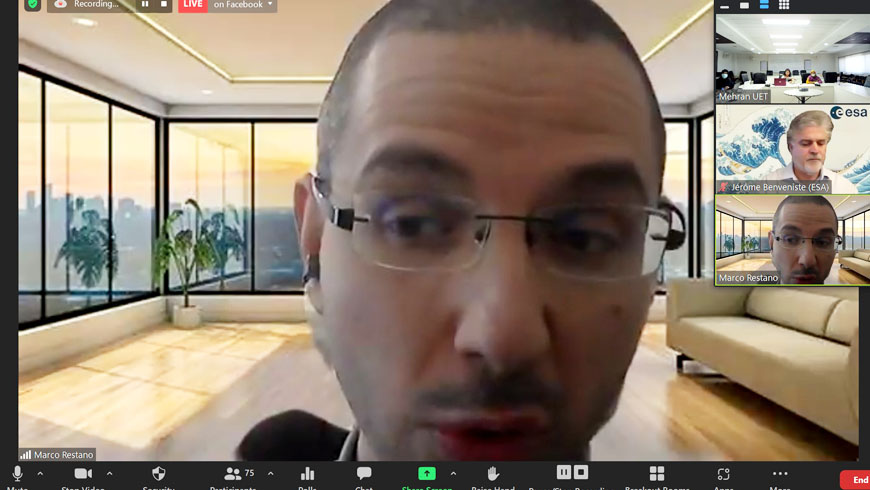 The primary goal of this course was to provide a multidisciplinary environment to strengthen the collaboration among users of in situ and space observation data. And to give an understanding of flood mapping through satellite data and modeling techniques using SAR images and GeoHECRAS, use of satellite radar altimetry data to measure levels of inland water bodies using ArcGIS.
During the two-day physical module Dr. Arjumand Zaidi, Senior Research Fellow (USPCAS-W) and PI of the project, Dr. Sumaira Zafar, Asian Institute of Technology (AIT), Ms. Jasra Rehman, Scholar USPCAS-W, and Ms. Fizah Saeed, Research Assistant USPCAS-W, demonstrated the exercises on Water level monitoring of Sukkur Barrage, Rapid Flood Mapping from SAR data using Google Earth Engine, Extraction and Analysis of Altimetry Data and 2D Flood Modeling of the Lower Indus River using GeoHECRAS Software.
Participants were awarded course completion certificates at the end of the four-day Training. Dean Faculty of Architecture and Civil Engineering MUET Prof. Dr. Khan Muhammad Brohi was the Chief Guest of the concluding ceremony.