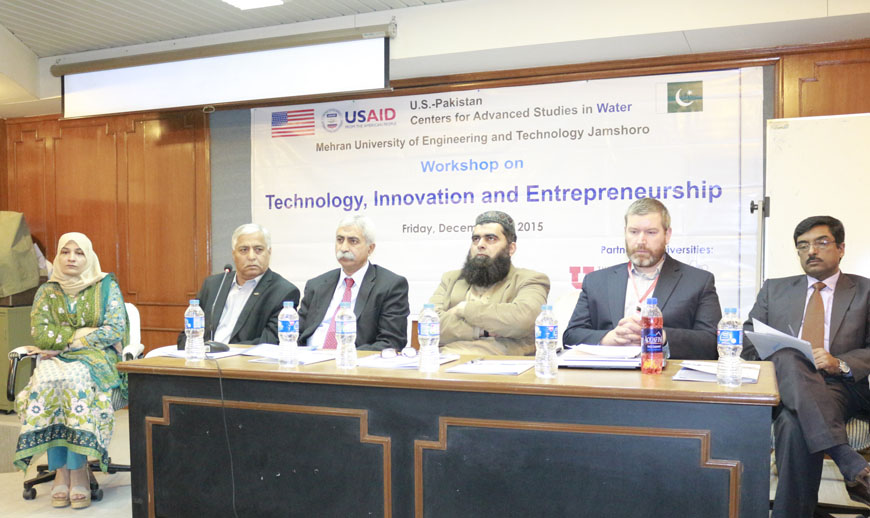 Academia Industry joint venture benefit society, says experts in workshop
Academia-industry joint venture efforts on research is need of the hour and will benefit the society at large, this is stated by experts in one-day seminar on "Technology, Innovation and Entrepreneurship" organized by Mehran University of Engineering and Technology (MUET) Jamshoro and University of Utah, USA under the auspices of U.S.-Pakistan Centers for Advanced Studies in Water (USPCAS-W) at Makhdoom Dawood Hall MUET Jamshoro. The experts of research, innovation and commercialization offices from different universities were of the view that link between academia and industry is not up to the mark due to mistrust, outdated curricula and other factors. They said that industries wish to seek the solution of the problems from the academic research, while the academic institutes lacks the capabilities to supply the solutions of such problems.
In seminar , Dr. James Thompson Executive Director of Utah University United States delivered presentation on Technology and Venture Commercialization, said that Universities should do transfer the knowledge and industries have to develop the knowledge, consequently they will exchange the research based problems and solutions as a commercial commodities. He further said universities must have to focus on need of commercialized inventions along with positive impact on society. Dr. Shahid Qureshi of IBA Karachi said that there are various myths regarding entrepreneurship, some say entrepreneurs are born, some say they are risk takes, some believe in big vision and business schools, but it is an understanding of oneself.
Dr. Arbella Bhutto Co-Director MUSTD MUET, Dr. Javaid Akhtar Manager University Industrial linkages at University of Karachi, Dr. Parviaz Ahmed Memon , Director ORIC IBA Sukkur, Project Director USPCAS-W MUET Dr. Bakhshal Khan Lashari, Communication & Gender Specialist Shabnam Baloch, others spoke in the seminar and emphasized on regular framework for industry-academia liaison and relationship also they suggested for curricular reform, revision of vision and mission statements, establishment of incubators in the universities. USPCAS-W MUET Faculty members, students of PhD and MS attended this workshop and participated in the questions and answer session.