Women are emerging as successful entrepreneurs in Pakistan, says Najma Siddiqi
February 26, 2018 USPCASW
Ms. Najma Siddiqi, a very well-known social development expert said that there are pockets of excellence and ponds of stagnation regarding the development and women empowerment in Pakistan. This she said while speaking in the graduate seminar on Invest in Future Leaders through Participatory Dialogue and Discussion on "Grassroots Entrepreneurship & Women Empowerment in Water Sector" organized by U.S.-Pakistan Center for Advances Studies in Water (USPCAS-W), Mehran University of Engineering and Technology (MUET) in collaboration with Center for Social Change (CSC) held at USPCAS-W Auditorium on Friday.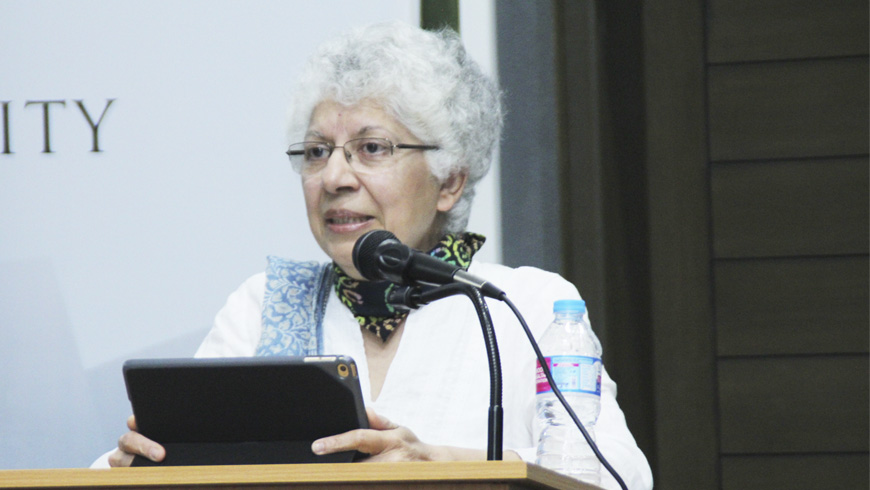 She said in the development of the society, the role of a woman cannot be ignored whereas she plays a more important role in daily life matters as compared to her male counterpart if it is realized. She believed Leadership is not a noun but a verb because the leader is supposed to be seen in actions in every time. In this sense, she elaborates, a woman always plays a role in leadership. She said that there is a close relationship between a woman, water, and entrepreneurship, but unfortunately, women were lagging behind for their rights including access to water.
She said women can be the best entrepreneurs by trying themselves for the economic authority. She said inequality in general and of gender is everywhere in the world, but to bring equilibrium in the society either gender has to think as a human being to each and to treat equally. In some of the societies including in Pakistan, there were fixed roles for a woman because of societal compulsion but the roles of a woman can be enhanced in all the sectors of professionalism, she added. She further said that unfortunately in our societies, people rather listen but memories the thoughts of leaders which can help them to quote their thoughts rather to the transformation of the society. Good Governance is a strategy from down to up, not the vice versa, she concluded the seminar and responded the questions asked by the participants.
While speaking in the seminar Zulfiqar Halepoto, Water-Environment and Civil Society Activist also heads CSC said that a woman in Pakistan has to play the diversified roles for enabling themselves to be successful entrepreneurs as the economic empowerment distinguish the social status in the society.
On this occasion, Project Director USPCAS-W MUET Dr. Bakhshal Khan Lashari ​welcomed the participants and introduced the speaker. Dr. Lashari also presented souvenirs to the speaker. ​
Speaker's brief profile:
Ms. Najma Siddiqi, a very well-known social development expert is now based in USA but spent decades in Pakistan by serving in the development sector in the country. Leadership and governance are the areas of her expertise and building institutions at the grassroots is her passion. Ms. Siddiqi studied in Clinical Psychology at Government College Lahore and remained on the key positions briefly mentioned :   Technical Advisor at World Bank, Chief Executive Officer at NRSP – National Rural Support Programme , Advisor at International Labour Organization,  Manager at Aga Khan Rural Support Program, Deputy Manager at Overseas Pakistan Organization